PoE / PoE+ RJ45 Jack Connector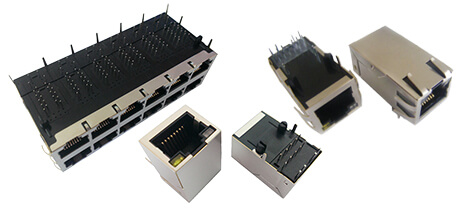 B-TOP PoE RJ45 Jack Connectors are available in PoE/PoE+ versions that support Power over Ethernet functionally while allowing customers to manage power for PSE and PD. PoE rj45 jack with magnetics support both 10/100 and Gigabit ethernet applications.
B-TOP offers a range of Integrated PoE RJ45 Jack Connector that provide a cost-effective, plug-and-play solution for customers implementing PoE and PoE+. Available in single port (1*1), 2-port(2*1), 4-port (2*2), 8-port (2*4), 12-port(2*6), and 16-port(2*8) and with LED options.
Find more PoE RJ45 Jack pictures in the gallery.
PoE Magnetic RJ45 Jacks Features & Benefits
Integrated magnetics
Filters common mode noise to provide signal integrity and protects PHY chip
Provides DC isolation
Offers low mode conversion
Integrated PD or PSE Design
PoE circuitry, transformers, chokes, capacitors and resistors, and other components with the connector
Eliminates complex design and testing, reduces time-to-market, saves PCB space
Fully shielded designs
Advanced EMI and ESD protection
Non PoE/PoE/PoE+ options
Provides flexibility for a variety of design applications
IEEE 802.3 compliant
Ethernet 10/100/1000 compatible
IEEE 802.3af compliant
PoE(Power over Ethernet) compatible
IEEE 802.3at compliant
PoE+(Power over Ethernet Plus) compatible
Product list
Click to view additional details. If you are viewing this page on mobile device, it is recommended to rotate the screen.
| Part Number | Ports | Speed | Schematic | PoE | LED | EMI Spring | Gold Plating | Temperature | Download | Note |
| --- | --- | --- | --- | --- | --- | --- | --- | --- | --- | --- |
| B50S(28-40)PF6-258A-P223-B52 | 1x1 | 100M | PF6-258A | PoE | G/Y | Yes | 6u" | 0 - 70 | PDF | |
| B50(29-06)FP4-198-P613-B52 | 1x1 | 100M | FP4-198 | PoE | GO/Y | No | 6u" | 0 - 70 | PDF | |
| B50(150-07)GP8-15-P623-F52 | 1x1 | Gigabit | GP8-15 | PoE | GO/Y | Yes | 6u" | 0 - 70 | PDF | |
| B50(150-53)GP12-106-P623-F12 | 1x1 | Gigabit | GP12-106 | PoE | GO/Y | Yes | 6u" | 0 - 70 | PDF | |
| B50(150-58)GP8-15-P623-F12 | 1x1 | Gigabit | GP8-15 | PoE | GY/G | Yes | 6u" | 0 - 70 | PDF | |
| B50(150-68)GP8-15C-P023-F52 | 1x1 | Gigabit | GP8-15C | PoE+ | None | Yes | 6u" | 0 - 70 | PDF | |
| B50(150-85)GP8-15A-P113-F52 | 1x1 | Gigabit | GP8-15A | PoE | Y/G | No | 6u" | 0 - 70 | PDF | |
| B50(150-86)GP8-15A-P123-F52 | 1x1 | Gigabit | GP8-15A | PoE+ | Y/G | Yes | 6u" | 0 - 70 | PDF | |
| B50(150-88)GP8-15-P623-F52 | 1x1 | Gigabit | GP8-15 | PoE | GY/GY | Yes | 6u" | 0 - 70 | PDF | |
| B50(150-90)GP8-218-P023-B52 | 1x1 | Gigabit | GP8-218 | PoE | None | Yes | 6u" | 0 - 70 | PDF | |
| B50(151-02)FP4-150-P622-F12 | 1x1 | 100M | FP4-150 | PoE | G/GO | Yes | 6u" | 0 - 70 | PDF | |
| B50(151-03)FP4-150-P623-F12 | 1x1 | 100M | FP4-150 | PoE | GO/GO | Yes | 6u" | 0 - 70 | PDF | |
| B50(27-11)FP4-151-A623-B52 | 1x1 | 100M | FP4-151 | PoE | GO/Y | Yes | 6u" | 0 - 70 | PDF | |
| B50(27-51)FP4-151-A613-B52 | 1x1 | 100M | FP4-151 | PoE | GO/Y | No | 6u" | 0 - 70 | PDF | |
| B50(27-97)PF4-235-A223-B52 | 1x1 | 100M | PF4-235 | PoE | G/Y | Yes | 6u" | 0 - 70 | PDF | |
| B50(27-100)PF4-244-A115-B52 | 1x1 | 100M | PF4-244 | PoE | Y/G | No | 30u" | 0 - 70 | PDF | |
| B50(27-117)PF6-96-A223-B52 | 1x1 | 100M | PF6-96 | PoE | G/Y | Yes | 6u" | 0 - 70 | PDF | |
| B50(27-118)PF4-260-A223-B52 | 1x1 | 100M | PF4-260 | PoE | G/Y | Yes | 6u" | 0 - 70 | PDF | |
| B50(27-121)FP4-235-A223-B52 | 1x1 | 100M | FP4-235 | PoE | G/Y | Yes | 6u" | 0 - 70 | PDF | |
| B50(27-122)PF4-269-A123-B52 | 1x1 | 100M | PF4-269 | PoE | Y/G | Yes | 6u" | 0 - 70 | PDF | |
| B50(27-128)PF4-182-A213-B52 | 1x1 | 100M | PF4-182 | PoE | G/Y | No | 6u" | 0 - 70 | PDF | |
| B50(27-137)PF4-153-A123-B52 | 1x1 | 100M | PF4-153 | PoE | Y/G | Yes | 6u" | 0 - 70 | PDF | |
| B50(27-138)PF4-153-A123-B52 | 1x1 | 100M | PF4-153 | PoE | Y/G | Yes | 6u" | 0 - 70 | PDF | |
| B50(27-142)PF4-269-A223-B52 | 1x1 | 100M | PF4-269 | PoE | G/Y | Yes | 6u" | 0 - 70 | PDF | |
| B50(29-41)FP4-269-A023-B52 | 1x1 | 100M | FP4-269 | PoE | None | Yes | 6u" | 0 - 70 | PDF | |
| B50(88-08)PF4-151-B023-B12 | 1x2 | 100M | PF4-151 | PoE | None | Yes | 6u" | 0 - 70 | PDF | |
| B50(88-12)PF4-151B-B223-B12 | 1x2 | 100M | PF4-151B | PoE+ | G/Y | Yes | 6u" | 0 - 70 | PDF | |
| B50(88-15)PF4-222-B323-B12 | 1x2 | 100M | PF4-222 | PoE | G/G | Yes | 6u" | 0 - 70 | PDF | |
| B50(88-16)PF4-222A-B323-B12 | 1x2 | 100M | PF4-222A | PoE | G/G | Yes | 6u" | 0 - 70 | PDF | |
| B50(511-21)PF6-96-A313-B52 | 1x1 | 100M | PF6-96 | PoE | G/G | No | 6u" | 0 - 70 | PDF | 双扣 |
| B50(511-32)PF6-96-A213-B52 | 1x1 | 100M | PF6-96 | PoE | G/Y | No | 6u" | 0 - 70 | PDF | 双扣 |
| B50(512-12)FP4-252-A013-B52 | 1x1 | 100M | FP4-252 | PoE | None | No | 6u" | 0 - 70 | PDF | |
| B50(512-18)PF4-196A-A013-B92 | 1x1 | 100M | PF4-196A | PoE | None | No | 6u" | 0 - 70 | PDF | 双扣 PIP |
| B50(650-11)FP4-178-A112-B12 | 1x1 | 100M | FP4-178 | PoE | Y/G | No | 6u" | 0 - 70 | PDF | |
| B50(650-27)PF4-198-A612-B12 | 1x1 | 100M | PF4-198 | PoE | GO/Y | No | 6u" | 0 - 70 | PDF | |
| B50(650-42)PF4-207-A113-B12 | 1x1 | 100M | PF4-207 | PoE | Y/G | No | 6u" | 0 - 70 | PDF | |
| B50(650-61)PF4-151-A113-B12 | 1x1 | 100M | PF4-151 | PoE | Y/G | No | 6u" | 0 - 70 | PDF | |
| B50(650-63)PF4-207-A113-B12 | 1x1 | 100M | PF4-207 | PoE | Y/G | No | 6u" | 0 - 70 | PDF | |
| B50(660-09)PF4-147-A013-B12 | 1x1 | 100M | PF4-147 | PoE | None | No | 6u" | 0 - 70 | PDF | |
| B59(57-50)FP4-236-1122-C12 | 2x1 | 100M | FP4-236 | PoE | Y/G | Yes | 6u" | 0 - 70 | PDF | |
| B59(57-51)FP4-183-1323-C12 | 2x1 | 100M | FP4-183 | PoE | G/G | Yes | 6u" | 0 - 70 | PDF | |
| B59(57-57)FP4-248-1223-C12 | 2x1 | 100M | FP4-248 | PoE | G/Y | Yes | 6u" | 0 - 70 | PDF | |
| B59(57-95)FP4-236-1113-C12 | 2x1 | 100M | FP4-236 | PoE | Y/G | No | 6u" | 0 - 70 | PDF | |
| B59(57-108)FP4-223-1223-C12 | 2x1 | 100M | FP4-223 | PoE | G/Y | Yes | 6u" | 0 - 70 | PDF | |
| B59(311-32)FP4-162-2123-C12 | 2x2 | 100M | FP4-162 | PoE | Y/G | Yes | 6u" | 0 - 70 | PDF | |
| B59(311-38)FP4-182-2223-C12 | 2x2 | 100M | FP4-182 | PoE | G/Y | Yes | 6u" | 0 - 70 | PDF | |
| B59(315-51)PF4-162-2023-C12 | 2x2 | 100M | PF4-162 | PoE | None | Yes | 6u" | 0 - 70 | PDF | |
| B59(117-09)FP4-203-4022-C12 | 2x4 | 100M | FP4-203 | PoE | None | Yes | 6u" | 0 - 70 | PDF | |
| B59(117-11)FP4-162-4026-C12 | 2x4 | 100M | FP4-162 | PoE | None | Yes | 50u" | 0 - 70 | PDF | |
| B59(119-01)FP4-237-4125-C12 | 2x4 | 100M | FP4-237 | PoE | Y/G | Yes | 30u" | 0 - 70 | PDF | 防雷 |
| B59(119-02)FP4-238-4125-C12 | 2x4 | 100M | FP4-238 | PoE | Y/G | Yes | 30u" | 0 - 70 | PDF | 防雷 |
| B59(119-03)FP4-242-4123-C12 | 2x4 | 100M | FP4-242 | PoE | Y/G | Yes | 6u" | 0 - 70 | PDF | 防雷 |
| B59(119-05)FP4-242A-4125-C12 | 2x4 | 100M | FP4-242A | PoE+ | Y/G | Yes | 30u" | 0 - 70 | PDF | |
| B59(119-06)FP4-283-4123-C12 | 2x4 | 100M | FP4-283 | PoE | Y/G | Yes | 6u" | 0 - 70 | PDF | |
| B59(123-13)FP4-162-4222-C12 | 2x4 | 100M | FP4-162 | PoE | G/Y | Yes | 6u" | 0 - 70 | PDF | |
| B59(123-26)PF4-178-4623-C12 | 2x4 | 100M | PF4-178 | PoE | YG/YG | Yes | 6u" | 0 - 70 | PDF | |
| B59(123-33)PF4-236B-4125-C92 | 2x4 | 100M | PF4-236B | PoE | Y/G | Yes | 30u" | 0 - 70 | PDF | |
| B59(123-34)FP4-241-4223-C12 | 2x4 | 100M | FP4-241 | PoE | G/Y | Yes | 6u" | 0 - 70 | PDF | |
| B59(123-40)PF4-162-4223-C92 | 2x4 | 100M | PF4-162 | PoE | G/Y | Yes | 6u" | 0 - 70 | PDF | |
| B59(123-43)PF4-178-4223-C12 | 2x4 | 100M | PF4-178 | PoE | G/Y | Yes | 6u" | 0 - 70 | PDF | |
| B59(123-44)FP4-162-4323-C12 | 2x4 | 100M | FP4-162 | PoE | G/G | Yes | 6u" | 0 - 70 | PDF | |
| B60(115-19)PF6-230-4023-C12 | 2x4 | 100M | PF6-230 | PoE | None | Yes | 6u" | 0 - 70 | PDF | 横排脚 |
| B59(175-05)FP4-162-6022-C12 | 2x6 | 100M | FP4-162 | PoE | None | Yes | 6u" | 0 - 70 | PDF | |
| B59(176-02)FP4-162-6722-C12 | 2x6 | 100M | FP4-162 | PoE | G/Y | Yes | 6u" | 0 - 70 | PDF | |
| B59(176-05)FP4-162-6323-C12 | 2x6 | 100M | FP4-162 | PoE | G/G | Yes | 6u" | 0 - 70 | PDF | |
| B59(46-01)GP8-99-1623-C12 | 2x1 | Gigabit | GP8-99 | PoE | GY/GY | Yes | 6u" | 0 - 70 | PDF | |
| B59(46-10)GP8-19F-1223-C12 | 2x1 | Gigabit | GP8-19F | PoE+ | G/Y | Yes | 6u" | 0 - 70 | PDF | |
| B59(46-11)GP8-19-1123-C12 | 2x1 | Gigabit | GP8-19 | PoE | Y/G | Yes | 6u" | 0 - 70 | PDF | |
| B59(46-12)GP8-19-1623-C12 | 2x1 | Gigabit | GP8-19 | PoE | GO/GO | Yes | 6u" | 0 - 70 | PDF | |
| B59(46-15)GP8-19-1023-C12 | 2x1 | Gigabit | GP8-19 | PoE | None | Yes | 6u" | 0 - 70 | PDF | |
| B59(46-17)GP8-19B-1623-C12 | 2x1 | Gigabit | GP8-19B | PoE+ | GY/GY | Yes | 6u" | -40 - 85 | PDF | |
| B59(46-18)GP8-19B-1613-C12 | 2x1 | Gigabit | GP8-19B | PoE+ | GY/GY | No | 6u" | -40 - 85 | PDF | |
| B59(46-22)GP8-19H-1613-C12 | 2x1 | Gigabit | GP8-19H | PoE | GY/GY | No | 6u" | 0 - 70 | PDF | 防雷 |
| B59(46-23)GP8-19B-1613-C12 | 2x1 | Gigabit | GP8-19B | PoE+ | GY/GY | No | 6u" | -40 - 85 | PDF | |
| B59(46-25)GP8-141-1613-C12 | 2x1 | Gigabit | GP8-141 | PoE+ | GY/GY | No | 6u" | 0 - 70 | PDF | |
| B59(46-27)GP8-19D-1625-C12 | 2x1 | Gigabit | GP8-19 | PoE | GY/GY | Yes | 30u" | 0 - 70 | PDF | |
| B59(46-29)GP8-19D-1113-C12 | 2x1 | Gigabit | GP8-19D | PoE | Y/G | No | 6u" | 0 - 70 | PDF | |
| B59(46-30)GP8-19B-1623-C92 | 2x1 | Gigabit | GP8-19B | PoE+ | GO/G | Yes | 6u" | 0 - 70 | PDF | |
| B59(46-31)GP8-67-1113-C12 | 2x1 | Gigabit | GP8-67 | PoE+ | Y/G | No | 6u" | 0 - 70 | PDF | |
| B59(46-35)GP8-19N-1223-C12 | 2x1 | Gigabit | GP8-19 | PoE | G/Y | Yes | 6u" | 0 - 70 | PDF | |
| B59(46-36)GP8-213-1613-C12 | 2x1 | Gigabit | GP8-213 | PoE | G/OG | No | 6u" | 0 - 70 | PDF | |
| B59(46-37)GP8-19D-1213-C12 | 2x1 | Gigabit | GP8-19D | PoE | G/Y | No | 6u" | 0 - 70 | PDF | |
| B59(46-38)GP8-19H-1213-C12 | 2x1 | Gigabit | GP8-19 | PoE | G/Y | No | 6u" | 0 - 70 | PDF | TVS |
| B59(46-39)GP8-141-1123-C12 | 2x1 | Gigabit | GP8-141 | PoE | Y/G | Yes | 6u" | 0 - 70 | PDF | GAS |
| B59(46-42)GP8-214-1223-C12 | 2x1 | Gigabit | GP8-214 | PoE | G/Y | Yes | 6u" | 0 - 70 | PDF | |
| B59(46-111)GP8-19B-1023-C12 | 2x1 | Gigabit | GP8-19 | PoE | None | Yes | 6u" | 0 - 70 | PDF | |
| B59(46-116)GP8-232-1023-C12 | 2x1 | Gigabit | GP8-232 | PoE++ | None | Yes | 6u" | -40 - 85 | PDF | |
| B59(46-117)GP8-19P-1223-C12 | 2x1 | Gigabit | GP8-19 | PoE | G/Y | Yes | 6u" | 0 - 70 | PDF | |
| B59(46-118)GP8-188-1623-C12 | 2x1 | Gigabit | GP8-188 | PoE | GY/G | Yes | 6u" | 0 - 70 | PDF | |
| B59(46-119)GP8-232-1223-C12 | 2x1 | Gigabit | GP8-232 | PoE++ | G/Y | Yes | 6u" | -40 - 85 | PDF | |
| B59(318-03)GP8-19-2623-C12 | 2x2 | Gigabit | GP8-19 | PoE | GY/GY | Yes | 6u" | 0 - 70 | PDF | |
| B59(318-05)GP8-109A-2623-C12 | 2x2 | Gigabit | GP8-109A | PoE | GY/GY | Yes | 6u" | 0 - 70 | PDF | |
| B59(318-07)GP8-19A-2023-C12 | 2x2 | Gigabit | GP8-19A | PoE | None | Yes | 6u" | 0 - 70 | PDF | |
| B59(318-08)GP8-19B-2623-C12 | 2x2 | Gigabit | GP8-19B | PoE+ | GY/GY | Yes | 6u" | -40 - 85 | PDF | |
| B59(318-10)GP8-103B-2223-C12 | 2x2 | Gigabit | GP8-103B | PoE | G/Y | Yes | 6u" | -40 - 85 | PDF | |
| B59(318-16)GP8-19A-2123-C12 | 2x2 | Gigabit | GP8-19A | PoE | Y/G | Yes | 6u" | 0 - 70 | PDF | |
| B59(318-20)GP8-19B-2623-C12 | 2x2 | Gigabit | GP8-19B | PoE+ | GO/GO | Yes | 6u" | -40 - 85 | PDF | |
| B59(318-61)GP8-19B-2023-C12 | 2x2 | Gigabit | GP8-19B | PoE+ | None | Yes | 6u" | -40 - 85 | PDF | |
| B59(318-63)GP8-70-2023-C12 | 2x2 | Gigabit | GP8-70 | PoE | None | Yes | 6u" | 0 - 70 | PDF | |
| B59(318-64)GP8-70-2023-C92 | 2x2 | Gigabit | GP8-70 | PoE | None | Yes | 6u" | 0 - 70 | PDF | PIP |
| B59(318-65)GP8-70B-2024-C92 | 2x2 | Gigabit | GP8-70B | PoE | None | Yes | 15u" | -40 - 85 | PDF | with GAS tube, PIP |
| B59(318-67)GP8-203-2023-C12 | 2x2 | Gigabit | GP8-203 | PoE | None | Yes | 6u" | 0 - 70 | PDF | |
| B59(112-32)GP8-220-4623-C12 | 2x4 | Gigabit | GP8-220 | PoE | YG/YG | Yes | 6u" | 0 - 70 | PDF | |
| B59(112-33)GP8-160-4223-C12 | 2x4 | Gigabit | GP8-160 | PoE | G/Y | Yes | 6u" | 0 - 70 | PDF | |
| B59(118-03)GP8-19A-4223-C12 | 2x4 | Gigabit | GP8-19A | PoE | G/Y | Yes | 6u" | 0 - 70 | PDF | |
| B59(118-05)GP8-19A-4023-C12 | 2x4 | Gigabit | GP8-19A | PoE | None | Yes | 6u" | 0 - 70 | PDF | |
| B59(118-11)GP8-103F-4023-C12 | 2x4 | Gigabit | GP8-103F | PoE | None | Yes | 6u" | 0 - 70 | PDF | |
| B59(118-15)GP8-103F-4623-C12 | 2x4 | Gigabit | GP8-103F | PoE | YG/YG | Yes | 6u" | 0 - 70 | PDF | |
| B59(118-43)GP8-139-4223-C12 | 2x4 | Gigabit | GP8-139 | PoE | G/Y | Yes | 6u" | 0 - 70 | PDF | |
| B59(118-49)GP8-109-4725-C12 | 2x4 | Gigabit | GP8-109 | PoE | GO/GO | Yes | 30u" | 0 - 70 | PDF | 单排中间LED |
| B59(118-50)GP8-153-4625-C12 | 2x4 | Gigabit | GP8-153 | PoE | GY/GY | Yes | 30u" | 0 - 70 | PDF | |
| B59(118-53)GP8-19B-4725-C12 | 2x4 | Gigabit | GP8-19B | PoE+ | GO/GO | Yes | 30u" | -40 - 85 | PDF | |
| B59(118-55)GP8-19E-4624-C12 | 2x4 | Gigabit | GP8-19E | PoE+ | OG/OG | Yes | 15u" | 0 - 70 | PDF | |
| B59(118-56)GP8-19E-4623-C92 | 2x4 | Gigabit | GP8-19E | PoE | OG/OG | Yes | 6u" | 0 - 70 | PDF | 中间LED |
| B59(118-57)GP8-19G-4725-C12 | 2x4 | Gigabit | GP8-19G | PoE | GO/GO | Yes | 30u" | 0 - 70 | PDF | 单排中间LED |
| B59(118-58)GP8-19B-4623-C12 | 2x4 | Gigabit | GP8-19B | PoE+ | GO/GO | Yes | 6u" | -40 - 85 | PDF | |
| B59(118-59)GP8-109B-4725-C12 | 2x4 | Gigabit | GP8-109B | PoE | GO/GO | Yes | 30u" | -40 - 85 | PDF | 单排中间LED |
| B59(118-67)GP8-161A-4323-C12 | 2x4 | Gigabit | GP8-161A | PoE+ | G/G | Yes | 6u" | 0 - 70 | PDF | |
| B59(118-70)GP8-153-4625-C12 | 2x4 | Gigabit | GP8-153 | PoE | GO/GO | Yes | 30u" | 0 - 70 | PDF | |
| B59(118-71)GP8-161A-4224-C12 | 2x4 | Gigabit | GP8-161A | PoE+ | G/Y | Yes | 15u" | 0 - 70 | PDF | |
| B59(118-72)GP8-19G-4725-C12 | 2x4 | Gigabit | GP8-19G | PoE | G/Y | Yes | 30u" | 0 - 70 | PDF | 单排中间LED |
| B59(118-74)GP8-103F-4223-C12 | 2x4 | Gigabit | GP8-103F | PoE | G/Y | Yes | 6u" | 0 - 70 | PDF | 中间LED |
| B59(118-76)GP8-19J-4225-C12 | 2x4 | Gigabit | GP8-19J | PoE | G/Y | Yes | 30u" | 0 - 70 | PDF | |
| B59(118-77)GP8-19B-4223-C12 | 2x4 | Gigabit | GP8-19B | PoE+ | G/Y | Yes | 6u" | -40 - 85 | PDF | |
| B59(118-78)GP8-19B-4623-C12 | 2x4 | Gigabit | GP8-19B | PoE+ | OG/OG | Yes | 6u" | -40 - 85 | PDF | |
| B59(118-79)GP8-139A-4223-C12 | 2x4 | Gigabit | GP8-139A | PoE+ | G/Y | Yes | 6u" | 0 - 70 | PDF | |
| B59(118-82)GP8-139-4623-C12 | 2x4 | Gigabit | GP8-139 | PoE | G/GO | Yes | 6u" | 0 - 70 | PDF | |
| B59(118-83)GP8-19A-4623-C12 | 2x4 | Gigabit | GP8-19A | PoE | G/GO | Yes | 6u" | 0 - 70 | PDF | |
| B59(118-92)GP8-209-4723-C12 | 2x4 | Gigabit | GP8-209 | PoE | GO/GO | Yes | 6u" | 0 - 70 | PDF | 单排中间LED |
| B59(118-93)GP8-19K-4023-C12 | 2x4 | Gigabit | GP8-19K | PoE | None | Yes | 6u" | 0 - 70 | PDF | |
| B59(118-95)GP8-67B-4123-C12 | 2x4 | Gigabit | GP8-67B | PoE | Y/G | Yes | 6u" | -40 - 85 | PDF | |
| B59(118-96)GP8-139A-4223-C12 | 2x4 | Gigabit | GP8-139A | PoE+ | G/Y | Yes | 6u" | 0 - 70 | PDF | |
| B59(118-97)GP8-70-4323-C12 | 2x4 | Gigabit | GP8-70 | PoE | G/G | Yes | 6u" | 0 - 70 | PDF | |
| B59(118-98)GP8-103I-4323-C12 | 2x4 | Gigabit | GP8-103I | PoE | G/G | Yes | 6u" | 0 - 70 | PDF | |
| B59(118-99)GP8-215-4123-C12 | 2x4 | Gigabit | GP8-215 | PoE | Y/G | Yes | 6u" | 0 - 70 | PDF | |
| B59(118-100)GP8-216-4123-C12 | 2x4 | Gigabit | GP8-216 | PoE | Y/G | Yes | 6u" | 0 - 70 | PDF | |
| B59(118-101)GP8-103I-4123-C12 | 2x4 | Gigabit | GP8-103I | PoE | Y/G | Yes | 6u" | 0 - 70 | PDF | |
| B59(118-102)GP8-222-4126-C12 | 2x4 | Gigabit | GP8-222 | PoE | Y/G | Yes | 50u" | 0 - 70 | PDF | |
| B59(118-103)GP8-19H-4223-C12 | 2x4 | Gigabit | GP8-19H | PoE | G/Y | Yes | 6u" | 0 - 70 | PDF | TVS |
| B59(118-104)GP8-232-4013-C12 | 2x4 | Gigabit | GP8-232 | PoE | None | Yes | 6u" | 0 - 70 | PDF | |
| B59(118-105)GP8-237-4223-C12 | 2x4 | Gigabit | GP8-237 | PoE | G/Y | Yes | 6u" | 0 - 70 | PDF | |
| B59(118-108)GP8-153-4323-C12 | 2x4 | Gigabit | GP8-153 | PoE | G/G | Yes | 6u" | 0 - 70 | PDF | |
| B59(118-109)GP8-19N-4623-C12 | 2x4 | Gigabit | GP8-19N | PoE | O/G | Yes | 6u" | 0 - 70 | PDF | |
| B59(118-110)GP8-67D-4123-C12 | 2x4 | Gigabit | GP8-67D | PoE | Y/G | Yes | 6u" | 0 - 70 | PDF | |
| B59(118-111)GP8-239-4123-C12 | 2x4 | Gigabit | GP8-239 | PoE | Y/G | Yes | 6u" | 0 - 70 | PDF | |
| B59(118-112)GP8-188-4623-C12 | 2x4 | Gigabit | GP8-188 | PoE | GY/G | Yes | 6u" | 0 - 70 | PDF | |
| B59(118-113)GP8-139B-4623-C12 | 2x4 | Gigabit | GP8-139B | PoE | G/GO | Yes | 6u" | -40 - 85 | PDF | TVS |
| B59(169-02)GP8-103F-6023-C12 | 2x6 | Gigabit | GP8-103F | PoE | None | Yes | 6u" | 0 - 70 | PDF | |
| B59(169-03)GP8-19A-6023-C12 | 2x6 | Gigabit | GP8-19 | PoE | None | Yes | 6u" | 0 - 70 | PDF | |
| B59(169-05)GP8-19A-6223-C12 | 2x6 | Gigabit | GP8-19A | PoE | G/Y | Yes | 6u" | 0 - 70 | PDF | |
| B59(169-06)GP8-115U-6023-C12 | 2x6 | Gigabit | GP8-115U | PoE | None | Yes | 6u" | 0 - 70 | PDF | |
| B59(169-08)GP8-103A-6023-C12 | 2x6 | Gigabit | GP8-103A | PoE | None | Yes | 6u" | 0 - 70 | PDF | |
| B59(169-10)GP8-19A-6123-C12 | 2x6 | Gigabit | GP8-19A | PoE | Y/G | Yes | 6u" | 0 - 70 | PDF | |
| B59(169-12)GP8-19-6023-C12 | 2x6 | Gigabit | GP8-19 | PoE | None | Yes | 6u" | 0 - 70 | PDF | |
| B59(169-21)GP8-149-6023-C12 | 2x6 | Gigabit | GP8-149 | PoE | None | Yes | 6u" | 0 - 70 | PDF | |
| B59(169-24)GP8-19K-6023-C12 | 2x6 | Gigabit | GP8-19K | PoE | None | Yes | 6u" | 0 - 70 | PDF | |
| B59(169-27)GP8-19B-6023-C12 | 2x6 | Gigabit | GP8-19B | PoE+ | None | Yes | 6u" | -40 - 85 | PDF | |
| B59(169-30)GP8-19D-6123-C12 | 2x6 | Gigabit | GP8-19D | PoE | Y/G | Yes | 6u" | 0 - 70 | PDF | |
| B59(169-31)GP8-139-6623-C12 | 2x6 | Gigabit | GP8-139 | PoE | GY/GY | Yes | 6u" | 0 - 70 | PDF | |
| B59(169-33)GP8-19D-6123-C12 | 2x6 | Gigabit | GP8-19D | PoE | Y/G | Yes | 6u" | 0 - 70 | PDF | |
| B59(169-35)GP8-19D-6623-C12 | 2x6 | Gigabit | GP8-19D | PoE | GO/Y | Yes | 6u" | 0 - 70 | PDF | |
| B59(169-61)GP8-103A-6623-C12 | 2x6 | Gigabit | GP8-103A | PoE | GY/GY | Yes | 6u" | 0 - 70 | PDF | 中间LED |
| B59(169-64)GP8-109-6625-B92 | 2x6 | Gigabit | GP8-109 | PoE | GO/GO | Yes | 30u" | 0 - 70 | PDF | |
| B59(169-66)GP8-19B-6223-C12 | 2x6 | Gigabit | GP8-19B | PoE+ | G/Y | Yes | 6u" | -40 - 85 | PDF | |
| B59(169-79)GP8-103F-6123-C12 | 2x6 | Gigabit | GP8-103F | PoE | Y/G | Yes | 6u" | 0 - 70 | PDF | |
| B59(169-81)GP8-189-6223-C12 | 2x6 | Gigabit | GP8-189 | PoE | G/Y | Yes | 6u" | 0 - 70 | PDF | |
| B59(169-83)GP8-19B-6623-C12 | 2x6 | Gigabit | GP8-19B | PoE+ | GO/GO | Yes | 6u" | -40 - 85 | PDF | |
| B59(169-85)GP8-170A-6023-C12 | 2x6 | Gigabit | GP8-170A | PoE | None | Yes | 6u" | 0 - 70 | PDF | |
| B59(171-01)GP8-19A-6023-C12 | 2x6 | Gigabit | GP8-19A | PoE | None | Yes | 6u" | 0 - 70 | PDF | solder-free |
| B59(180-01)GP4-162A-6023-C12 | 2x6 | Gigabit | GP4-162A | PoE | None | Yes | 6u" | 0 - 70 | PDF | pin distance 3.0mm |
| B59(180-02)GP4-162A-6023-C12 | 2x6 | Gigabit | GP4-162A | PoE | None | Yes | 6u" | 0 - 70 | PDF | pin distance 3.0mm |
| B59(198-01)GP8-99-8623-C12 | 2x8 | Gigabit | GP8-99 | PoE | GY/GY | Yes | 6u" | 0 - 70 | PDF | 中间灯 |
| B59(199-02)GP8-19-8023-C12 | 2x8 | Gigabit | GP8-19 | PoE | None | Yes | 6u" | 0 - 70 | PDF | |
| B59(199-03)GP8-103E-8023-C12 | 2x8 | Gigabit | GP8-103E | PoE+ | None | Yes | 6u" | 0 - 70 | PDF | with fuse |
| B59(199-06)GP8-19-8123-C12 | 2x8 | Gigabit | GP8-19 | PoE | Y/G | Yes | 6u" | 0 - 70 | PDF | |
| B59(199-09)GP8-19B-8623-C12 | 2x8 | Gigabit | GP8-19B | PoE+ | GY/GY | Yes | 6u" | -40 - 85 | PDF | |
| B59(199-10)GP8-139-8223-C12 | 2x8 | Gigabit | GP8-139 | PoE | G/Y | Yes | 6u" | 0 - 70 | PDF | |
| | | | | | | | | | | |
PoE RJ45 Applications
1. Data/ Tele communications

PoE power injectors
Low PoE port-count switches
Server peripheral communication and power

2. Security

IP enabled devices (security devices), such as IP Camera
Wireless access points

3. Industrial
4. Consumer / SOHO

Desktop computers
Set-top boxes
IP Phone